Distribution
Water enters the Coastside County Water District system from two sources. In the north end of the District, it enters the Denniston Water Treatment Plant from the Denniston Project, near Half Moon Bay Airport. At Half Moon Bay, it enters the system via the Pilarcitos Pipeline and flows into the Nunes Water Treatment Plant. From there it flows into storage tanks for subsequent use in the system.
Nunes Water Treatment Plant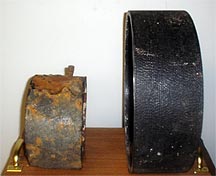 Old vs. New Pipeline
There are 100 miles of transmission and distribution pipeline in the CCWD system. There are also 11 treated water storage tanks in the system which have a combined storage capacity of 8.1 million gallons. The District maintains a distribution system that includes 3 pressure zones, 5 pump stations, 500 hydrants, and 52 miles of water mains.
The District is responsible for maintaining and upgrading the water distribution pipeline that runs throughout the service area. The District has an ongoing pipeline replacement program that continually removes sections of old inefficient pipeline and replaces it with new ductile iron pipeline that reduces leaks and reassures more water for firefighting purposes. Plastic pipe is currently being used in the Princeton area.