Understanding Your Bill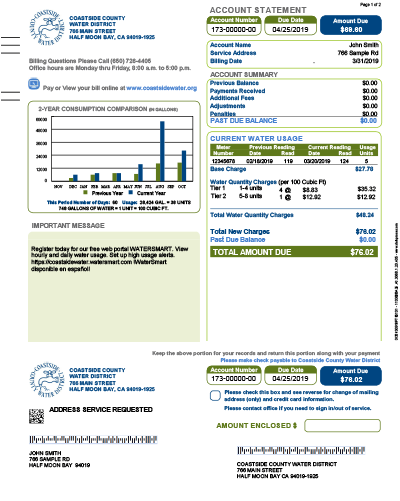 All water services, including dedicated fire services, are metered within Coastside County Water District's service area. The current meter read date and the previous meter read date are displayed on your statement. This will tell you how many days are included in your account statement. Customers are sent a statement on a monthly (≈30 days) or bi-monthly (≈60 days) basis.
Your account statement includes some useful information. In addition to showing the total amount due, the statement has the meter reads for the period of the statement, the water rate(s) applied to your consumption, and the base charge for your water service.
The base charge is based on the meter size for domestic services and the service connection size for dedicated fire services. The consumption charge is based on the amount of water delivered through your meter for the time period of the statement. Water consumption is displayed in billing units.
1 Billing Unit = 748 Gallons = 100 Cubic Feet of Water
Customers with a dedicated fire service receive a separate bill with a base charge based on the size (inches) of the fire service connection. Usage on a fire service is charged at the commercial consumption rate. Consumption on a fire service is from flushing (maintenance) your fire system, leaks in your fire system, or from a fire event.
The water consumption chart on your statement displays a historical billing comparison. This is provided to help customers understand their water usage pattern, by comparing water usage at the same time period for the previous year.