Understanding Your Water Bill
All water services are metered and all meters are read on either a monthly or a bi‑monthly basis. Residential customers are billed on a bi-monthly basis. Commercial customers may be billed on a monthly or bi-monthly basis depending on water usage and type of meter.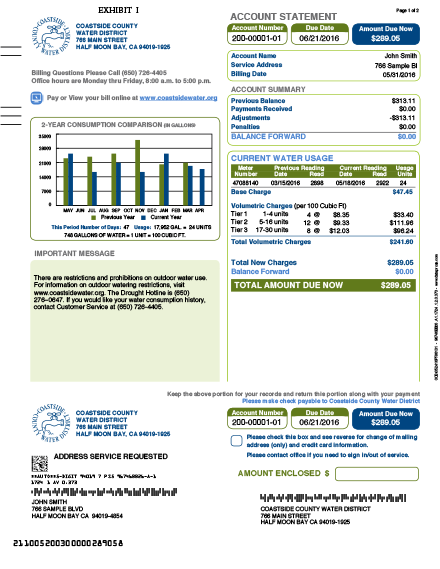 Your bi-monthly or monthly water bill from CCWD includes some useful information. In addition to showing the current meter reading and previous meter reading, your consumption, in hundreds of cubic feet is listed.
A bi-monthly or monthly base charge, determined by the meter size, is charged for each active account. Consumption charges are based on the amount of water delivered through the meter at your premises. Charges are computed by units, a standard measure for water sales, which is equal to 748 gallons.
Residents and commercial accounts with installed fire sprinkler systems receive a separate bi-monthly or monthly billing for the detector check. This fee is also based on the size of the meter.
The Water Consumption Chart shows historical billing period comparisons. This chart compares water usage in gallons for two years. All of this information can be helpful in detecting unseen leaks, in monitoring your own water usage and ultimately in improving overall water use efficiency.
Please contact the District's Customer Service representatives at (650) 726-4405 for any additional questions you may have concerning your account, or general questions regarding billing, establishing or discontinuing service.